Every year, people flock to Victoria from all over the world to experience the beautiful scenery, wildlife, food, wine and much more. The stunning surroundings make the area the perfect place for a romantic stay, with something for everyone – from honeymooners to those of you celebrating a big anniversary. Even if you don't have a car with you, you needn't be stuck where you are staying. Hop on one of our tours to do or see something a little different, get out of the city and enjoy yourself without worrying about driving. Take a look at our top picks for visiting couples to find the perfect trip for you.
This is one for the old-school romantics among you. The day begins with a stunning balloon ride over Melbourne at sunrise, which cannot fail to take your breath away. You will then be brought back down to earth for a luxury breakfast at the Hilton hotel, which includes a glass of bubbly. After breakfast, the coach heads on out to Peninsula Hot Springs where you can kick back and relax for three hours. The Bath House offers over 20 different types of bathing experience that are all included in the trip, but you could also choose to add in treatments or a couple's massage if you are feeling indulgent.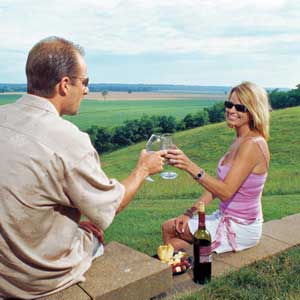 For some people, great wine is almost as important on a date as great company. On the Yarra Valley Wine Tour, you will not to be disappointed. The Yarra region is full of award-winning wineries, and all the samples on this tour are included in the price. We should warn you, though, that once you have sampled some of the delicious Cabernet, Chardonnay, Semillon and Pinot you will be very tempted to buy a few — or a few dozen — bottles in each vineyard's shop… and that's no problem. There's plenty of room in the bus for cases of wine.
Our top tour for spectacular scenery, the Great Ocean Road takes in some of the most stunning sights in Australia. We suggest that you get one of the other passengers to take a few pictures of the two of you in front of a really epic backdrop, like the 12 Apostles – these are sure to be holiday snaps to remember.

This tour is a good one to consider if you find yourself in Melbourne in winter. Snowfall on the mountains between June and September makes for great ski slopes just three hours drive away from Melbourne. More active couples can take ski lessons or just have fun skidding down the slopes. If that doesn't appeal, how about a hot chocolate in front of a roaring fire, admiring the winter wonderland through the window?
Couples with children should check out our blog on Top Picks for Visiting Families for some advice on which of our day trips are best enjoyed with little ones.
Comments
comments